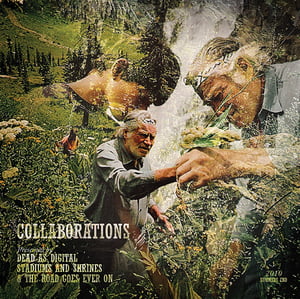 $

6.00
Edit: SOLD OUT (no reprints)
As Seen on:
Visitation Rites
No Modest Bear
 Life: Aquatic
Smoke Don't Smoke
Boy Attractions
Transient Nodes
Good Pop Bad Pop
Unholy Rhythm
No Fear Of Pop
See The Leaves
You Know You Owe Me
Their Bated Breath
The First Cassette Release From Weget.by "Collaborations"- Presented by Dead As Digital, Stadiums and Shrines and The Road Goes Ever On.
Artwork Creation and Design By Nathaniel Whitcomb of www.ThinkOrSmile.com
Limited Edition of 100
Side A

1. Top Girls and Guerre - "Melt"
2. Teen Daze and Jaded Hipster Choir - "Low Glow"
3. Weed and Foxes In Fiction - "Teenage Dream"
4. Closed Cassette and Top Girls - "For Now"
5. Ghost Animal and Rachel Levy - "We Don't Care" *
6. Ghost Houses - "Ritual"

Side B

7. Holy Spirits and Gem Club - "Fingertips"
8. Seeing Suge (Star Slinger, Emay, Blackbird Blackbird) - "Breaking" (DEMO)
9. Pepepiano and Warm Waves - "Air"
10. Gay Boiz (Kumon Plaza and Rachel Levy) - "High Level Alchemy"
11. Star Slinger and Pandit - "Self Love"
*Track On Analog Release Only
More tracks could also be added.
Tracks other than * Will be released for free digitally via www.theroadgoeseveon.tumblr.com www.stadiumsandshines.com and www.deadasdigital.com However, tape orders will receive an e-mail link to download the tracks 4 days before the digital release. As well as a few other special goodies sent along with the tape.